Featured Item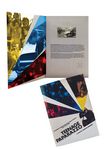 Video In Print Media Player For Custom P...
The perfect fusion of video, print, and sound. Incorporate high quality video content into any print collateral. Multiple screen sizes available. Up to 15 minutes of video content. Rechargeable batter...

HoustonAdvance is out ahead!
OVER 25 YEARS DELIVERING THE ITEMS YOU WANT, HOW YOU WANT THEM, ALL THE TIME, EVERY TIME
We specialize in delivering:
The finest embroidery, screen printing,t-shirts & promotional products
The widest selections anywhere
The highest quality & most professional customer service you can find
Inquire about free digitizing and free artwork!
Hello. My name is Charlie Spruell and I appreciate your visiting HoustonAdvance. We provide the service & quality that you're looking for and strive to exceed your expectations.

Feel free to call me personally at 832-265-3228. If you're not completely satisfied, we offer a 100% moneyback guarantee. I will do my best to provide you with the best in service, quality and price for all your advertising and promotional product needs.

I promise!

Charlie Spruell

Houston Advance, based in Houston, Texas, is your premier source for personalized shirts, caps, embroidery, and screen printing!