For over 25 years, HoustonAdvance is your local source for promotional items such as discount mugs, Custom T-Shirts, Tumblers, Cups, Corporate Giveaways, Marketing Giveaways, Trade Show Giveaways, Executive Gifts, Golf Apparel, Tote Bags, USB Drives, USB Chargers, Stress Balls, Hand Sanitizers, Lip Balm, Travel Kits, Custom Caps and Hats, Custom Pens, Custom Tote Bags, Custom Awards and Recognition Gifts, Custom Cell Phone Accessories, Lanyards and Badges, Custom Paperweights, Custom ink, Custom embroidery Custom balloons, Custom Golf Balls, Antenna Balls, Custom Key Chains, Silicone Smartphone Mobile Wallet, Custom Ear Buds, iwallet, Custom Selfie Stick, Custom Umbrellas, Custom Candy Jars, Custom Visors, Custom Mouse Pads etc.......and even Yo-Yo's.
Inquire about free digitizing and free artwork!
Hello. My name is Charlie Spruell and I appreciate your visiting HoustonAdvance. We provide the service & quality that you're looking for and strive to exceed your expectations.

Feel free to call me personally at 832-265-3228. If you're not completely satisfied, we offer a 100% moneyback guarantee. I will do my best to provide you with the best in service, quality and price for all your advertising and promotional product needs.

I promise!

Charlie Spruell

Houston Advance, based in Houston, Texas, is your premier source for personalized shirts, caps, embroidery, and screen printing!
Featured Item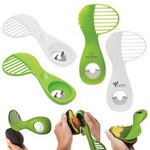 3-in-1 Avocado Tool
All in one tool splits, pits, and slices avocados safe and effectively. Serrated plastic blade easily slices through the avocado skin without being sharp to the touch. Pitting tool allows quick remova...
$2.03 - $2.48
Signature Showrooms